Liquid Control Made Easy

All CCS-8600 Systems feature containers that remain upright, with no change of spills.  Connections are quick and feature no-spill technology.
Soon to be the National Standard, Closed Loading and Mixing Systems are required by the State of California for Danger Label pesticides.   These systems also allow users to reduce their PPE requirements as shown in the CDPR brochures for Ag, Farms, and Non-Ag. Recognized by CDPR as meeting their exacting requirements, the GoatThroat Systems come complete with everything needed to move liquids from the source container through measuring and into the mix tank with a simple triple-rinse set-up at surprisingly affordable rates.  Systems are available for 2.5 gallon containers, 5 gallon containers and for all 30 and 55 gallon drums and barrels including Micromatic. See the options 
GT 2016 Closed System Product Overview with CutSheets
NEW for 2015:  CCS8600-QS Quick Switch
Below Are 2 Options for  the CCS8600-QS



Click below to see the brochure           California DPR Review says: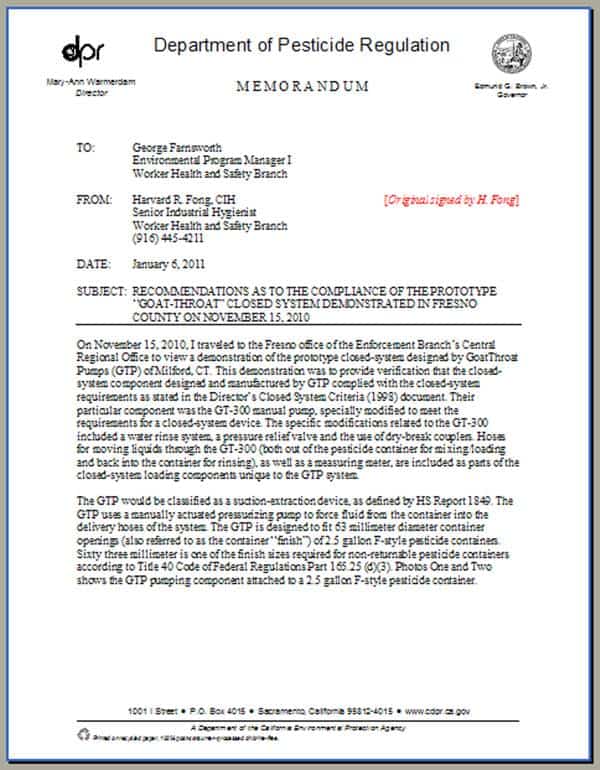 "The first CCS-8600 Closed System for 30 G Gramoxone proved to be so good that the company wanted another one."  Farmland Management, July 2013

"Your design for the closed system for Lime Sulfur worked fine.  Thanks for your help."  Marice Carrie Winery, March 2012

Contact our California Distributors:
For more information, see our product selection guide, Read the reviews, or contact us through our contact page or call us at toll-free @ 866-639-4628 or international at +1 646-486-3636.